Stone Age artefacts found by 15-year-old girl
[ARABIE SAOUDITE] Lu sur newhistorian.com
La découverte d'un outil lithique est l'occasion d'un point sur la connaissance archéologique de la région de l'Asir. En raison du pillage, on ne connaît presque rien du passé de ce secteur.
A young Saudi girl has recently discovered valuable Stone Age artefacts.

The fifteen year old, from the Asir region of south west Saudi Arabia, handed over nineteen archaeological pieces to authorities. A statement from the Saudi Commission for Tourism and Antiquities (SCTA) noted that the finds included seven circular stones and four arrowheads which had been carefully trimmed to points.

That these Stone Age artefacts are in official hands is a real triumph for the archaeological community. Little is known about ancient Saudi Arabia as most of it was only sparsely populated. The only people to have inhabited the area in prehistoric times were nomadic groups which traveled the inhospitable desert. To have Stone Age artefacts from Saudi Arabia presents the possibility of more fully comprehending this little-understood period.

The Asir region itself is an archaeologically rich area and many finds have been made there. "Asir is characterized by a number of archaeological sites dating back to pre-Islamic history and the early Islamic era," said Saeed Ali Al-Qarni, spokesman for the SCTA. "There are more than 150 archaeological sites registered at the National Archaeological Records in Asir and they are under the supervision of SCTA's branch in the region."

The young girl, who has not been named, was rewarded by the SCTA with an appreciation letter, praising her initiative in handing in the items. Al-Qarni explained that the SCTA is committed to protecting ancient artefacts and archaeological sites in addition to unearthing new items through archaeological excavations.

The artefacts are of particular importance as many archaeological excavations in the Kingdom of Saudi Arabia are under threat. Intrusions into archaeological sites and looting present serious problems for researchers, as important items can be lost or stolen, resulting in artefacts not being properly examined and documented.

The SCTA has been working hard to try to curb looting by increasingly monitoring digs and finds, to prevent further losses. "The SCTA also monitors popular heritage sites in accordance with official regulations, which ban selling antiquities without the SCTA's approval," Al-Qarni explained.

Nine archaeological sites have already been properly protected with security fences and work is ongoing to protect many others. It will be some time, however, before all sites are properly secured.

As well as providing an increased understanding of Saudi Arabia's past, preserving archaeological sites can be a lucrative venture. Archaeological excavations can lead to increased tourism as visitors seek to learn more about an area's history.

"It's well-known [that] archaeological sites are one of the main attractions for tourists. Asir has innumerable cultural heritage places that narrate our past. The SCTA will not hesitate to support this important and influential tourism sector," Mohamed Al-Umrah, from the SCTA, told journalists.

The actions of a young girl from Asir have provided archaeologists with invaluable artefacts from a little-known period of Saudi history. Her handing over of nineteen Stone Age items means that archaeologists have a new means of insight into the past. Hopefully her deed will inspire more people to come forward with artefacts they may have discovered; this is of particular importance given the damage caused by looting at excavation sites.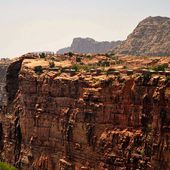 Stone Age Artefacts Found By 15-Year-Old Girl
A young Saudi girl has recently discovered valuable Stone Age artefacts. The fifteen year old, from the Asir region of south west Saudi Arabia, handed over nineteen archaeological pieces to ...
http://www.newhistorian.com/stone-age-artefacts-found-15-year-old-girl/2686/
Partager cet article