Treasure hunter finds 17th century gold ring in a Gower field
ROYAUME-UNI - Lu sur walesonline.co.uk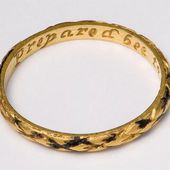 Now that's a cash crop! Treasure hunter finds 17th century gold ring in a field
Gold mourning ring from late 1600s was found using a metal detector A treasure hunter unearthed a 300-year-old gold ring when he searched a Gower field with a metal detector. At a hearing in Swansea
http://www.walesonline.co.uk/news/wales-news/treasure-hunter-finds-17th-century-8331303


A treasure hunter unearthed a 300-year-old gold ring when he searched a Gower field with a metal detector.

At a hearing in Swansea on Monday morning the city's Acting Coroner Colin Phillips has declared the find treasure trove meaning it will stay in public ownership and technically ownership passes to the Crown.

The estimated value of the ring was not disclosed at the brief hearing in Swansea's Civic Centre but Mr Phillips said Swansea Museum had expressed an interest in bidding for the ornate piece of jewellery.

Ron Pitman, of Swansea, found the gold and silver ring in October, 2010, in a field belonging to the Layton family of Pennard, Gower.

The field, used to grow maize, was ploughed and rolled and the ring was found at a depth of around five inches.

Mourning rings were worn in memory of someone who had died and they often bore the name and date of death of the person or a motto.

The ring found by Mr Pitman, whose outer surface is engraved with a fine trellis-style pattern inlaid in dark blue-black enamel, contains the wording on its inner surface: "Prepared bee to follow me" in italic script with the extra e in the word "be" being a feature of the late 1600s.

The ring is believed to be more than 300 years old and Mark Redknapp of the Department of Archaeology and Numismatics at the National Museum in Cardiff who examined the ring, says it is "at least 300 years old" with other, very similar examples, dating from the late 1600s.

The ring, containing gold and silver, contains at least 10% precious metals.

After the ring has been officially valued by a committee based at the National Museum the person who discovered the ring is entitled to a finder's fee. The fee is often split with the land owner depending on the circumstances of the find.

A report from the National Museum in Cardiff said: "Rings with similar enamelled decoration have been found at Old Beaupre, Vale of Glamorgan and a site east of Colchester – with similar legend "Prepared bee to followe me" – dated 1667.

"Such rings can be difficult to date but the decoration and sentiment here suggest a 17th rather than 18th Century date. The double e spelling occurs on ring engraved "Wee part to meete" dated 1658. Other inscriptions attributed to the seventeenth century include "A deare friend gift" and "Not lost but gone before".

Partager cet article
Pour être informé des derniers articles, inscrivez vous :